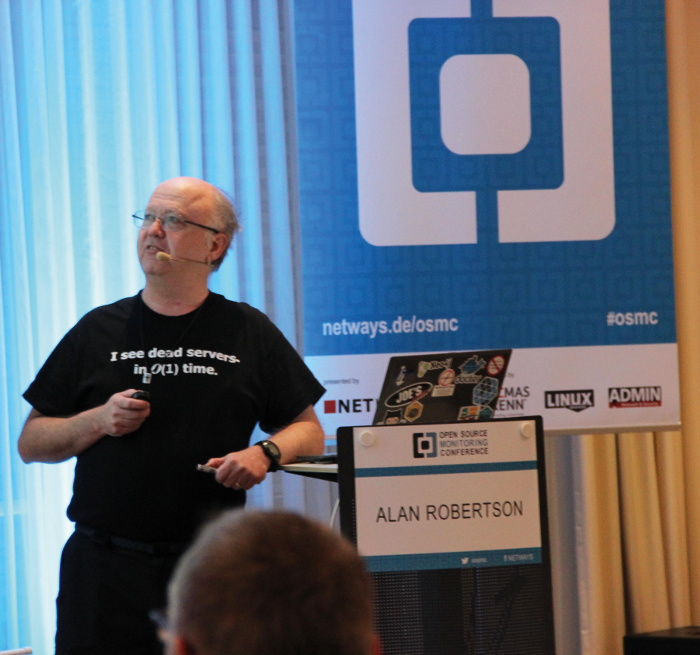 Back in November of last year, I presented at the Open Source Monitoring Conference (OSMC) – and the talk went really well. Just today I found out we've been featured in the German publication Linux Magazin – and they said some very nice things about us in their article about the OSMC.
I wrote a bit about the 2015 OSMC in a previous article. As always, I had a great time presenting at the OSMC, the audience was very receptive and I participated in my first hackathon there – all of which turned out very well indeed. There's even a good video of my talk. But I'm excited about what Linux Magazin had to say about us.
My knowledge of German is limited to words like bitte and danke schön – so I got a limited amount from the article – but the picture looks good. I don't look asleep, and my mouth isn't hanging open, so that's all good ;-). Fortunately my good friend Lars Marowsky-Brée provided a good translation for me, which I've shared below for my English-speaking audience.
English translation from Linux Magazin
Still, there was no lack of creative ideas, for example by Alan Robertson (who, being American, can't be faulted for presenting in English). He, the original founder of the Linux HA project and author of its core component "heartbeat", presented his latest innovative invention: a monitoring system named "The Assimilation Suite", in which every node automatically discovers its neighbors including their active services. The resulting web of neighbor relations is stored in a central graph database. This method has many advantages: it discovers even forgotten systems, always presents current results, and scales exceptionally well. In contrast, Icinga is build on top of a more traditional architecture with a relational database and without auto-discovery.
Lars said "I dare say that's some fairly good press!" – and I find myself agreeing with him wholeheartedly. Thanks to Bernd Erk of Netways for inviting me to speak, to Linux Magazin for their kind words, and Lars for the excellent translation.
"Graphies" Innovation Award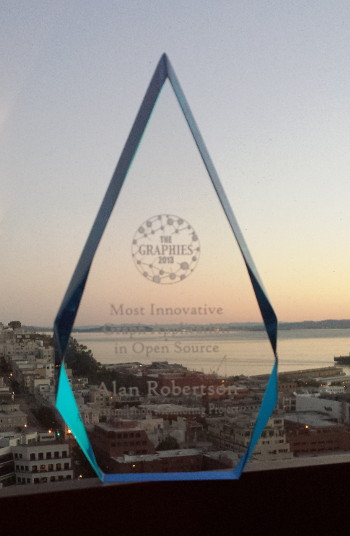 Having the Assimilation Suite be recognized as being highly innovative is no surprise. Back in 2013, we received the "Most Innovative Open Source Graph Application" Graphies award from the San Francisco GraphConnect 2013 conference. There is also a collection of somewhat humorous references to our innovation on our What People Are Saying page.