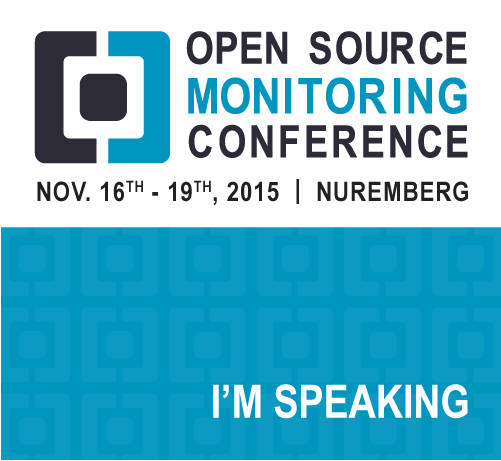 I just got an email from Bernd Erk, saying that the 2015 Open Source Monitoring Conference is filling up. From my perspective, that's a good thing, because we have a great talk and demo to give there and are excited to be speaking there again. From your perspective, this may be a good thing only if you hurry up and register – since this is the only conference we've spoken at outside the US this year.
If you can't make it, then I think you'll find that one of the nice things about Netways' OSMC conference is that they record the talks, then make them available later. For example, you can find the video from my previous talk out there on YouTube. This was one of the most fun conferences for me, because the audience is predominantly system engineers, and DevOps practitioners who all clearly understand and deal with the kinds of problems we solve every day. The last time we spoke at the OSMC, we got a really awesome tweet from Thomas Widhalm. To tell the truth, all our talks get really good feedback both about the problems we solve and our architecture – there really isn't anything else that comes close in either category.
One of the interesting things about the OSMC, is that it is sponsored by the creators of the Icinga monitoring package, yet they invited me to come speak about the Assimilation suite – which is clearly a superior approach to monitoring 😉 when compared to Nagios-legacy products. In addition, they have also invited the OpenNMS and other people to speak about competing products as well. Whatever else you might think, they are inclusive in their invitations. Perhaps it's an application of the saying: keep your friends close, and your enemies closer ;-). Either way, they're great hosts and put together a great conference!
More about the Assimilation talk… I will be talking and demonstrating a lot of things we weren't yet doing (or even talking about) back the last time we were in Nürnberg. These include CMDB enhancements, extensive discovery, zero-configuration monitoring, security best practice analysis, the IT best practices project, and a lot of other things. We've made tons of progress since then – it's really exciting!
In addition, we'll also be doing our first-ever Hackathon. I'm pretty excited about it, since Europeans in general and Germans in particular seem to really understand the advantages of open source methodologies, and love to participate in these kinds of events. If you want to get some ideas of the kinds of things that are on my mind for the Hackathon, check out our feature/issue board (I expect to write another blog post on it next week).
Whether you can come and see it in person, and participate in the Hackathon locally or not, you'll eventually be able to see the video of my talk, and reap the rewards of the hackathon. Looking forward to seeing some of you in person in Nürnberg!