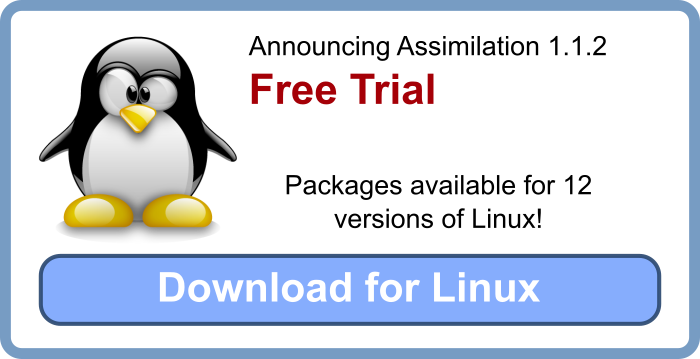 On January 2nd we put out version 1.1.2 of the Assimilation System Management Suite – the Happy 2016 release. This release adds enhancements related to best practice analyses and adds support for openSUSE, Scientific, and ScientificFermi Linux – along with a few bug fixes. We also have some surveys that we'd love for people to take – to help direct us in our future work.
Free Supported Trials of Assimilation Release 1.1.2
As we have in the past, we offer supported free trials of the Linux version of our system management suite – just follow the download link and the instructions you'll find there.
New Features in Assimilation Release 1.1.2
The major new feature from this release is that now when a system fails a best practice audit, you get notified through a warn event in the event API – which we explained in detail in an earlier article. Also, when a best practice that used to fail and audit now passes the check, you get an unwarn event to tell you that the problem has been corrected.
New Packages in Assimilation Release 1.1.2
As noted above, we now produce 64-bit packages for openSUSE 13.2 and 42.1 – bringing us to 12 versions of Linux we produce packages for. Scientific and ScientificFermi Linux are part of the RedHat ecosystem, so we just had to recognize them in the installer, and deal with a quirk in their package naming. They're supported by our existing CentOS packages.
There are also a few bugs which our customers needed fixed, and one or two other improvements to make the world a nicer place.
To get started for the first time with the Assimilation software, press the download button below.

System Management Surveys
If you're involved in managing, securing, or planning for IT environments, we have three surveys we'd love for you to take for us – depending on your expertise and interests. If you do, we'll send you a fun little token of our appreciation.
Below are the current topics – please choose whichever ones you have responsibilities around. Please feel free to invite others who could give us insights as well.
Server security survey
This survey covers security compliance, intrusion detection and patch management, and will take about 6 minutes to complete.
Server / Service monitoring
This survey covers server and service monitoring and alerting and will take about 6 minutes to complete.
Infrastructure Knowledge / Understanding / Configuration Management / CMDB Survey
This survey covers issues surrounding knowledge of and insights into your IT infrastructure. If you're involved with IT management or planning, this 6-7 minute survey is likely for you.