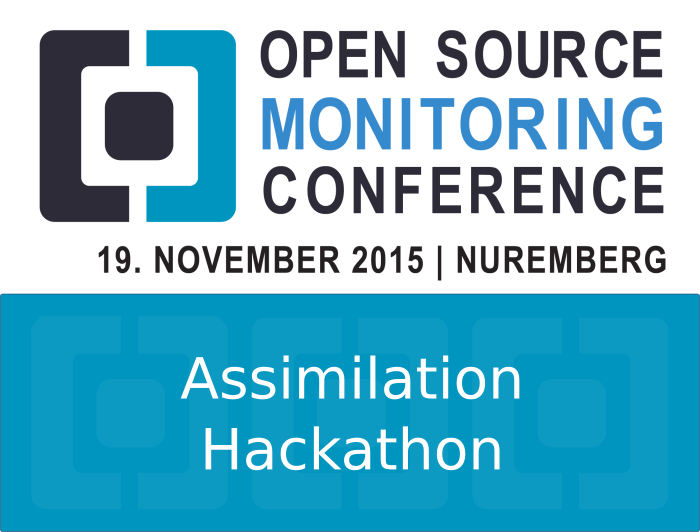 We want to invite you to come to the first-ever Assimilation Hackathon at the Open Source Monitoring Conference in Nürnberg, Germany – led by our founder Alan Robertson.
We will likely be working on some of the items in our Trello Issues/Features/Bugs board. My guess is that most of the work we'll be doing will come from the external integration or discovery agents columns from that board. The integrations tend to be bigger chunks of work, and the discovery agents tend to be smaller chunks of work – much smaller in some cases.
I'm open to doing multi-person larger projects or a few single-person smaller projects – or some combination of the two. Although I'm not going to limit what people work on, here below are a few of my favorite thoughts about potential Assimilation Hackathon integrations.
Suggested Assimilation Hackathon External Integrations
Suggested Assimilation Hackathon Discovery Agents
How We Plan on Organizing the Assimilation Hackahon
I've never really done a hackathon before, but here are my thoughts. My main interest is for people to participate and have fun. The rest is optional ;-).
Here's how to participate:
Email AlanR@AssimilationSystems and tell him you want to join the Hackathon.
Read the Contributing to the project page, and sign the contributor agreement before submitting completed work. Paper copies will be available if you're physically present for the Hackathon.
Connect your IRC client to the #assimilation channel on irc.freenode.net
AlanR will add you to the Trello board. Once you sign the contributor agreement, Alan will add you to the Assimilation github project as a project member.
Pick an item you want to work on. Suggestions are in the External Integrations and Discovery Agents columns on Trello.
Drag and drop that item to the Nürnberg Hackathon Projects column, and add yourself as a member  to the Trello card, so we can tell who's working on it.
Fork the github repository.
Do your work, test it…
When it's done, submit a pull request. Pull requests without contributor agreements will be cheerfully ignored.
When all is done, Alan buys beer for everyone who participated!
Looking forward to seeing you there!